Short Stories For Kindle And Nook
Short stories, we've got short stories! Now available for Kindle and Nook, twelve of Janet's short stories:
"Blue Eyes": The late Mrs. Littlejohn left a large sum of money for the care and feeding of her cat. But something about that will is fishy, as Jeri Howard discovers. Kindle - Nook
"By the Book": Accident? Or suicide? That's the question Navy Lieutenant Dinah Gray must answer when a sailor at her Navy command drives a car into San Francisco Bay. Dinah discovers a lot of people would rather she didn't make waves. Despite the pressure, the young officer must go where the evidence, and her conscience, lead her. Kindle - Nook
"Candles on the Corrner": Twelve-year-old Emily Gebhardt is dead—struck down by a hit-and-run driver while walking home from school. The makeshift shrine of candles and flowers on the corner is a daily reminder of her parents' pain and loss. It's also a starting point for investigation as PI Jeri Howard searches for information to bring the perpetrator to justice. Justice – that's what Emily's parents want. Or is it vengeance? Kindle - Nook
"Invisible Time": Greta and Hank are orphaned and homeless, scrabbling for survival on the cold, rainy streets of San Francisco. In this noir take on Hansel and Gretel, the little girl struggles to keep herself and her brother from falling through the cracks in this scary urban landscape, where homeless adults help and also prey on lost children. Kindle - Nook
"Little Red Corvette": Why was the vintage Corvette abandoned at a repair shop? Jeri Howard looks into the car's provenance, and finds murder. Kindle - Nook
"Mrs. Lincoln's Dilemma": Mary Todd Lincoln, wife of the sixteenth president, is the First Lady of a nation embroiled in the Civil War. She's also a savvy political wife in wartime Washington. In this story, the First Lady uses her powers of observation and the help of two White House employees to sort out crimes—including murder—and bring the perpetrators to justice. Kindle - Nook
"Pack Rat": A pack rat—of the human variety—lives in the rundown house, surrounded by the junk he hoards. As the officers discover, there's more to this short story than the rats at the window and the piles of old newspaper inside. What's going on is a crime. Kindle - Nook
"Scam and Eggs": A fabulous jeweled egg made by Fabergé for the Russian imperial family disappears during an art gallery opening. Does the gallery owner have something to do with the crime? He's had thefts from his other galleries, a pattern that retired private investigator Errol Seville believes is part of a scam to defraud the insurance company. The scam turns bloody when murder enters the picture. Kindle - Nook
"Slayer Statute": Who gets the insurance money? That's the tangled case Jeri Howard must unravel when a husband and wife die in what looks like a murder-suicide. Kindle - Nook
"Voice Mail": Winner of the Macavity Award for Best Short Story. The way we communicate now—by e-mail, text messages, voice mail—all detached and at a distance, without the immediate feedback of a face-to-face conversation, or even the voice-to-voice exchange of a phone call. But sometimes there are reasons for that distance, as one woman discovers when she uses voice mail to communicate her hostility to her soon-to-be ex-husband. It seems he has an agenda of his own. Kindle - Nook
"What the Cat Dragged In": Hattie Ballew is a gold miner in California's Mother Lode. She works a claim with her brothers, and enjoys the company of her cat Little Bit, who pilfers things from the cabin and the surrounding woods. As Hattie finds out, the lust for gold leads to violence—and murder. And Little Bit may drag in a clue. Kindle - Nook
"Witchcraft": Backing the wrong horse can be murder. And jockey Deakin Kelley is about to be taken for the ride of his life. Deakin's bewitched. He's fallen under the spell of a beautiful woman, one with a sleek figure and a sly, come-hither smile. But witchcraft—and obsessive love—are dangerous. Kindle - Nook
Casebook
Also available is Casebook. Together in one volume—four short stories featuring Jeri Howard: "Slayer Statute," "Blue Eyes," "Candles on the Corner" and "Little Red Corvette." Buy it for Amazon's Kindle.
Invisible Time
Janet's story "Invisible Time" is included in the anthology San Francisco Noir 2: The Classics, published in February 2009 by Akashic Books. Read an excerpt
Jeri Howard And Ellery Queen
Jeri Howard hunts for the hit-and-run driver responsible for the death of a 12-year-old in "Candles on the Corner," a short story appearing in the November 2008 issue of Ellery Queen's Mystery Magazine. Read an excerpt from "Candles on the Corner." You can also download the entire story as a free PDF.
Another Jeri Howard story, "Slayer Statute," was featured in the September/October 2003 issue of Ellery Queen's Mystery Magazine, and was a nominee for the 2004 Shamus Award for best short story. Who gets the insurance money when two people wind up dead in an apparent murder-suicide? That's the insurance adjuster's current headache and he'd like PI Jeri Howard to solve his problem. But as the private investigator says after she hears the tangled details, "I have to hand it to you... This one is a stinker." Read an excerpt
Scam And Eggs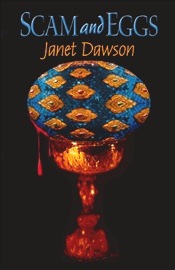 "Scam and Eggs is a fine mystery anthology that contains mostly contemporary contributions, but also has two enjoyable historicals including a spin on First Lady Mary Todd Lincoln that will open readers' minds to this intriguing much maligned figure. The book also contains three well written Jeri Howard tales, which by itself would be a winner especially since the retired Seville couple is also in attendance... The remaining tales include a military mystery and a modern day updating of a fairy tale relocated from Europe to San Francisco. Finally, this delightful ten-story collection includes three never before printed tales. Fans of short but suspenseful mysteries will gain much pleasure with Janet Dawson's strong aggregate."
—Bookbrowser.com
Telling a tale completely and succinctly, in the spare and stripped-down framework of the short story, presents a different set of challenges from the novel, where the writer has more time and space in which to work. But writing short stories has provided me with a welcome opportunity to stretch, to use different characters and different time periods, to explore ideas that are intriguing but perhaps not large enough to contain a novel.
"Scam and Eggs" is a new story, with ties to the Jeri Howard series. The private eye used to work for private investigator in a firm headed by the dapper Errol Seville who, with his wife Minna, has retired to Carmel-by-the-Sea. Errol and Minna put in appearances in two Jeri Howard novels, Don't Turn Your Back on the Ocean and A Credible Threat. Now they solve a mystery of their own.
"Voice Mail" is also new story, inspired by a series of intriguing voice mail messages. These days we communicate by e-mail, by voice mail, detached and at a distance, without the immediate feedback once receives in a face-to-face conversation, or even the voice-to-voice exchange of a telephone call. In this story, a woman uses voice mail to communicate her hostility to her soon-to-be ex-husband. "Voice Mail" was the winner of the 2003 Macavity Award for best short story.
Excerpt from "Scam and Eggs":
"The Rodrigos have a Fabergé egg," Minna Seville said.
Errol Seville smiled. "How very ostentatious of them."
The retired private investigator and his wife stood on the patio behind an art gallery on Dolores Avenue in Carmel-by-the-Sea, sipping mediocre champagne and nibbling on hors d'oeuvres as they watched the people around them. It was a Saturday in April, almost the dinner hour, and to the west, the sun was beginning its afternoon descent toward the turquoise waters of Carmel Bay.
"I'm impressed, even if you aren't," Minna retorted. "Those eggs are priceless, because there are so few of them. Fabergé made fifty-six eggs for the Russian royal family. Only forty-four of them survive, in museums or private collections. I saw several of them, a few years ago at that exhibit up in San Francisco. The eggs are incredible—detailed work, decorated with jewels, and they all have tiny little surprises inside. It must be a coup for a dealer or a collector to find one."
"I didn't say I wasn't impressed. Merely curious. When did Rodrigo acquire this trinket?" Errol's eyes narrowed as he looked through the open doorway leading into the gallery. "He didn't have it when I investigated his insurance claim after that so-called robbery."
That had been several years ago, before Errol's age, combined with his last heart attack, forced the investigator to close the Seville Agency. He and Minna had sold their house in Oakland and headed south, to the retirement home they'd purchased long before housing prices on the Monterey peninsula had moved from merely pricey to completely insane.
Back then, Paul Rodrigo had owned a gallery called Xian on San Francisco's Union Street, specializing in Asian art and antiques. One day Rodrigo had called the police to report a robbery. He said he'd arrived at his gallery that morning to discover a door forced open at the back of the gallery and the alarm system turned off. Several display cases had been smashed and a number of valuable, and heavily insured, objects had been taken. All of the missing items—ivory netsukes, jade jewelry, old cloisonné ornaments—were small, easily disposed of, and difficult to trace. None had ever been recovered.
The Seville Agency had been hired by the insurance company to investigate Rodrigo's expensive claim, to see if it was valid. As far as Errol was concerned, there were some things about Rodrigo's statement to the police that didn't hold water.
Excerpt from "Voice Mail":
Friday, 6:42 p.m.
All right, asshole, where the hell are you?
You were supposed to pick up Brandon and Sara half an hour ago. No, make that forty-two minutes ago. You stood them up. AGAIN.
That's the fourth time in five months. You'd better believe I'm keeping score. I'm writing it down. I've got a little list, just like the Lord High Executioner in The Mikado. I write it down, every time you lie to them, every time you cheat them by promising you'll spend time with them, and then just don't show up.
You say you want joint custody of the kids, because you love them so much. You say you can't bear to be apart from them. That's bullshit, and you know it. What makes you think you can take care of a six-year-old and an eight-year-old? Ego, of course. You lawyers have plenty of that, and you've got more than most. The only person you're interested in taking care of is yourself.
Right now Sara's in tears. She thinks you forgot about taking them to the beach house this weekend. Remember, the only reason I let you use the beach house at all is because the children love it so much. Sara doesn't realize that money is more important to you than her. Than anyone, or anything else. Brandon's trying to keep that stiff upper lip you're always talking about. The last time I looked, his lip was quivering. You and your macho bullshit.
You may be able to fool your partner, the sleazy divorce lawyer, and you may be able to put one over on that idiot judge—but not me. Not a chance, buster. It took awhile, but I got wise to you. You don't give a damn about these kids. You're just playing custody games to get back at me. And to get out of paying child support.
By the way, I had plans for this weekend, too, just in case you care. Which you don't.