About Janet Dawson

Photo credit: Charles Lucke
Janet Dawson has written ten novels featuring Oakland private investigator Jeri Howard. Her first, Kindred Crimes, won the St. Martin's Press/Private Eye Writers of America contest for best first private eye novel. It was nominated in the best first category for three mystery awards, the Shamus, the Macavity and the Anthony.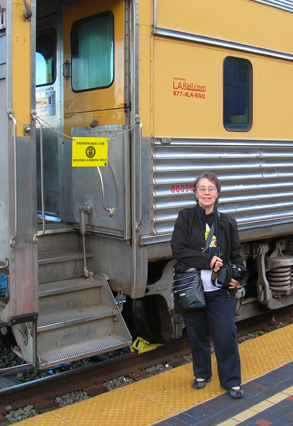 About this photo
Other Jeri Howard books include Till The Old Men Die, Take A Number, Don't Turn Your Back On The Ocean, Nobody's Child, A Credible Threat, Witness to Evil, Where The Bodies Are Buried and A Killing at the Track. A book of ten short stories, Scam and Eggs, was published in 2002. A new Jeri Howard novel, Bit Player, published by Perseverance Press in April 2011, was nominated for a Golden Nugget Award for the best mystery set in California. Her stand-alone suspense novel What You Wish For will be published by Perseverance in September 2012.
In the past, Dawson was a newspaper reporter in Colorado, and her stint as a U.S. Navy journalist took her to Guam and Florida. As an officer in the Navy, she was stationed in the San Francisco Bay Area. After leaving the Navy, Dawson worked in the legal field. She is now on the staff of the Physical Biosciences Division of the Lawrence Berkeley National Laboratory, and resides in Alameda, California.
Dawson is a long-time member of Mystery Writers of America, serving as MWA NorCal president and chair of the Edgar Allan Poe awards. She also belongs to Sisters in Crime.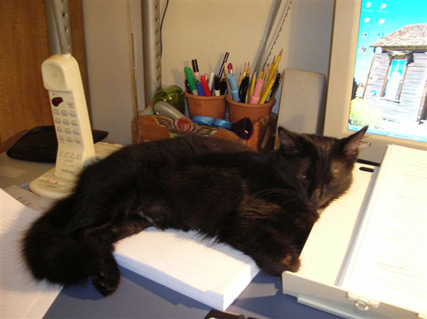 This is Janet's new kitten Clio.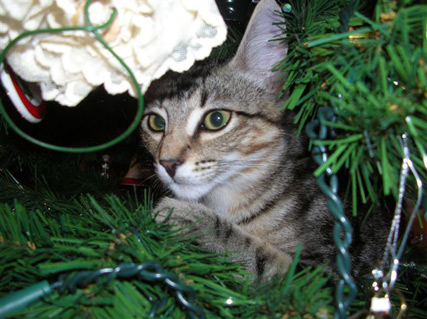 New kitten Bodie loves the Christmas tree!